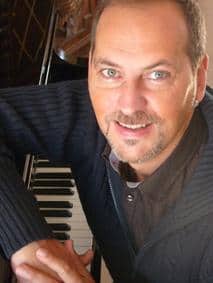 Compositeur et arrangeur SACEM, peintre (membre de l'association Charles BASSOMPIERRE des Peintres du Spectacle), Jean-Claude SOLDANO est actuellement professeur titulaire de Piano Jazz ,de Synthétiseur et de MAO (Musique Assistée par Ordinateur) au Conservatoire d'Ozoir-la-Ferriere.
Apres des études musicales au Conservatoire de Fontenay-sous-Bois (Classe d'écriture de Mme CHIAPPARIN du CNSM, Classe de Formation Musicale de M.Claude WANTELEZ), à l'Ecole Normale de Musique de Paris (Classe de piano de Dusan TADIC ancien élève d'Alfred CORTOT) et à l'Université de Paris-Sorbonne (Licence de Musicologie), Jean-Claude SOLDANO se perfectionne auprès du pianiste Harry GATIBELZA (Harmonie du Jazz, improvisation) et de la Bill Evans Piano Academy (Directeur Bernard MAURY).
Il accompagne, pendant de nombreuses années au piano le groupe vocal de gospel "Accord Singers" (Festival de Jazz d'Argeles, Festival du Marais à Paris, Festival des Caraibes…).
Il ecoute : Chopin, Liszt, Oscar Peterson, Michel Petrucciani…Mais aussi Bob Marley, Pink Floyd ou Deep Purple… Il regarde : Les impressionnistes, Friedrich, Chichkine mais aussi Franck Frazetta et Arthur Rackham… Vous pouvez voir quelques unes de ses toiles en cliquant ICI….
Jean-Claude Soldano à remporté le Prix International d'Excellence en Composition Musicale (International Music Prize / National Academy of Music / State of Colorado U.S.A) avec ses pièces pour piano :
"Sicilienne" et "Derrière la colline".
Cette dernière pièce lui a également permis d'obtenir un Prix d'Honneur et une mention spéciale au Concours International de Composition IBLA New-York Awards (Ragusa / Sicile).